INDUSTRIES
MACS Crane & Rigging takes pride in our capability to provide clients in a variety of industries with an extensive fleet of machines and equipment. From the harsh conditions of working on a mining site to the hectic nature of navigating a construction site, our machines function on any type of job site, while our talented operators and project managers have experience working in many industries. Spanning ports, paper mills, HVAC companies, military bases, industrial sites, and more, explore the industries we frequent below.
PORT
Ports are reliant on cranes and other equipment to load and unload cargo from ships and then move the cargo around the docks to its next or final destination. With containers reaching hundreds of thousands of pounds worth of cargo, efficient lifting solutions are necessary to keep up with the fast-paced nature of ports. With bare or operated rental services, MACS Crane & Rigging supplies the port industry with cranes, forklifts, rigging equipment, and other machines that are used both on and off ships to keep the industry running smoothly.
PULP AND PAPER
Operating in a 24/7 industry, paper mills require reliable machines and equipment to perform tasks spanning handling, production, storage, maintenance, and more. Each possessing the strength to withstand the harsh conditions of paper mills, machines and equipment from MACS Crane & Rigging include cranes, transportation equipment, forklifts, and rigging equipment that all help complete paper mill projects. Our company works with clients in the pulp and paper industry to set them up with durable equipment that boosts the paper mill's productivity.
CONSTRUCTION
Whether you need to transport materials between different construction sites, lift heavy piping or steel materials, or move generators or other tools within a site, MACS Crane & Rigging offers the construction industry a variety of convenient services. Our cranes, boom trucks, forklifts, rigging equipment, and transportation equipment allow contractors to develop success projects no matter the surface condition of the construction site or the complexity of the overall project.
INDUSTRIAL
Industrial projects demand heavy-duty machines and equipment that can get tasks done with a focus on precision and safety. In industries including manufacturing, mining, chemical processing, power generation, and many more, down time is often costly, so they rely on machines and equipment that are ready to get started whenever needed. With the precision of our machines and equipment and the unique skill sets of our operators, MACS Crane & Rigging supplies industrial projects with the tools to complete many tasks.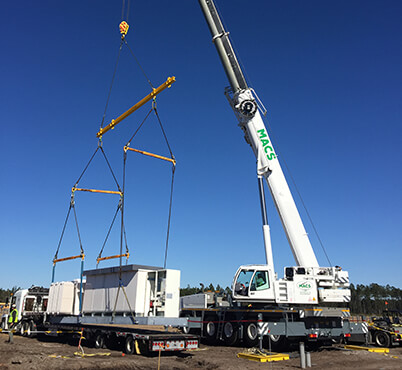 POWER COMPANIES
The power generation industry requires machines and equipment to assist with eco-friendly updates at established plants, the construction of new plants, daily maintenance, and outages that affect entire communities. MACS Crane & Rigging sets power companies up with dependable cranes, boom trucks, rigging equipment, tractors and trailers, and forklifts that operate in both everyday applications and emergency situations. Our skilled operators also have experience with safely maneuvering turbines, generators, and other machines through power plants.
TELECOMMUNICATIONS
As the demand for high-speed internet and phone connectivity worldwide continues, the telecommunications industry is continuously developing. In order for the industry to develop, telecommunications professionals rely on equipment and machines that help with various projects, from constructing new cell sites to hoisting technicians up cell towers for maintenance. MACS Crane & Rigging's fleet consists of boom trucks, truck cranes, rough-terrain cranes, and other equipment that help the telecommunications industry progress.
COMMERCIAL
MACS Crane & Rigging assists businesses and organizations with our comprehensive fleet of machines and equipment. From general construction and expansion projects to tasks including sign and lighting installation, storage and distribution, HVAC installation, and more, MACS Crane & Rigging can supply cranes, forklifts, transportation services, and rigging equipment to help businesses grow and expand. Commercial projects can be completed seamlessly with our equipment and safely with our skilled operators.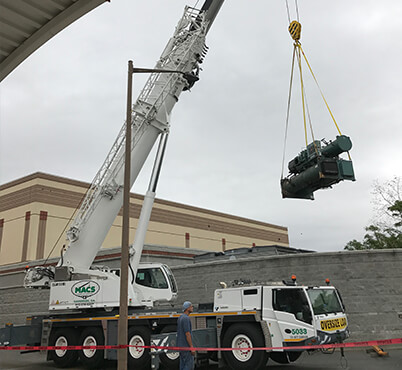 HVAC
From the installation to the removal of air conditioning and heating equipment, MACS Crane & Rigging provides lifting and transportation services to assist clients in the HVAC industry. HVAC equipment is often installed on the roofs of homes and businesses, so MACS Crane & Rigging steps in with cranes, boom trucks, and rigging equipment to complete the heavy lifting. Along with skilled operators, our machines and equipment can get HVAC units to their final destination both safely and efficiently.
MILITARY
MACS Crane & Rigging puts our machines and equipment to work for military applications including the renovation of barracks, transportation of military vehicles, disassembly of machinery, and other tasks both on and off base. By renting our reliable cranes, boom trucks, forklifts, and transportation and rigging equipment, the military industry can get a variety of tasks done through MACS Crane & Rigging. No matter the terrain or the job site, MACS Crane & Rigging operators are experienced in working on military sites.
MINING
Working in conditions with extremely high temperatures, dust, moisture and other elements, the mining industry is backed by heavy-duty machines and equipment that can operate in these harsh applications. At MACS Crane & Rigging, we rent out rough-terrain cranes, crawler cranes, forklifts, and other relevant equipment to the mining industry. Our machines hold up against cruel conditions while our MSHA-certified operators are comfortable navigating confined mining sites, keeping safety at the forefront of the process.